Instituto de Parasitología y Biomedicina
"López - Neyra"


CONVENIO IPBLN-FUNDACIÓN DE INVESTIGACIÓN BIOSANITARIA EN ANDALUCÍA ORIENTAL

Desarrollo de nuevas terapias basadas en ciclodextrinas para combatir la Tripanosomiasis Africana.

GENYCELL BIOTECH ESPAÑA S.L

Desarrollo Kit Diagnostico Genetico basado en tecnología array bac.

COLABORACIÓN FUNDACIÓN PROGRESO Y SALUD

Relevancia de proteasas extracelulares durante la progresón tumoral

CONVENIO CON LA UNIVERSIDAD DE GRANADA

Convenio para la organización de seminarios

COLABORACIÓN CON LA UNIVERSIDAD DE CAMBRIDGE

Proyecto de la Royal Society (Reino Unido) "MAP kinases and the mRNA response to heat shock in trypanosomes" para la movilidad de personal entre laboratorios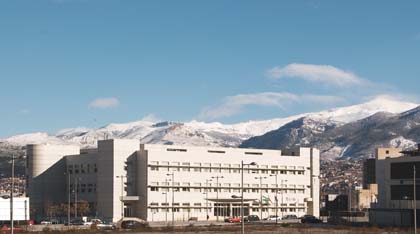 The Institute of Parasitology and Biomedicine "López-Neyra" (IPBLN) forms part of the Spanish National Research Council (CSIC) and its activity is devoted to research in the area of biomedical sciences. The fields of research cover a wide range of issues concerning immunology, cell biology, molecular biology and pharmacology of important world-wide biomedical problems.
It is organized in three departments: Biochemistry and Molecular Pharmacology, Cell Biology and Immunology and Molecular Biology. The institute is located at the Technological Park of Health Sciences of Granada (PTS; www.ptsgranada.com); this privileged location provides an appropriate environment to stimulate the interaction among different institutions and private entities interested in Health Sciences, including basic and applied research, health care, University education and transferring of knowledge to the productive sector.
-Seminario Científico:&nbspApoptosis, necrosis y autofagia en respuesta a la inhibición del metabolismo glicolítico de las células tumorales,&nbsp(05-12-2013)

-Seminario Científico:&nbspHistone demethylases: new regulators of nervous system development,&nbsp(13-12-2013)

-Jornadas Científicas Junior:&nbspVI Jornadas Científicas Junior,&nbsp(16-12-2013)

-Jornadas Científicas Junior:&nbspProcedimdientos e Instrumentos para la Protección y Comercialización de Resultados de Investigación,&nbsp(16-12-2013)

-Jornadas Científicas Junior:&nbsp,&nbsp(17-12-2013)

-Jornadas Científicas:&nbspJORNADAS CIENTÍFICAS GENyO,&nbsp(17-12-2013 --> 18-12-2013)

-SEMINARIO ESPECIAL DE NAVIDAD:&nbspRNA as a modulator of chromatin structure and genome integrity,&nbsp(17-12-2013)

-Seminario Científico:&nbsp,&nbsp(18-12-2013)

-Seminario Científico:&nbsp,&nbsp(19-12-2013)

-Seminario Científico:&nbsp,&nbsp(31-01-2014)
Neuropéptidos.


Nueva terapia experimental que reduce en un 90% la metástasis de melanoma en el pulmón.


Con-ciencia. Conoce el Insituto de Parasitología y Biomedicna "López-Neyra"


Con-ciencia. Enfermedades autoinmunes.


Con-ciencia. Parkinson.


See more:
| | | | | | | | | | |
| --- | --- | --- | --- | --- | --- | --- | --- | --- | --- |
| | | | La investigación de este Centro está cofinanciada con Fondos de la Unión Europea | | | | | | |

| | | | |
| --- | --- | --- | --- |
| Sede: Parque Tecnológico de Ciencias de la Salud, Avda. del Conocimiento, s/n.18016 Armilla (Granada)(ESPAÑA). TEL:+34 958181621. FAX:+34 958181632 | | | |
| | | | | | |
| --- | --- | --- | --- | --- | --- |
| | | Resolución mínima: 1024 x 768 | Navegadores:Internet Explorer 6.0 / Netscape 7.01 / Mozilla 1.3a / Opera 7.54 | | |