SUMMARY OF RESEARCH
PRESERVATION OF GENOMIC STABILITY IN TRYPANOSOMES
The protozoa of the Trypanosomatidae family include human pathogens of great medical importance. Diseases caused by trypanosomatid protozoa - Chagas, human African trypanosomiasis, and leishmaniasis - mostly affect poor and remote populations with limited access to health services. Currently, there are no vaccines and their control lies in chemotherapeutic strategies, but the limited number of drugs available are toxic, expensive and develop resistance mechanisms. Therefore, and despite the great recent effort in research, there is still an urgent demand for new therapeutic tools 1.
Human African trypanosomiasis or sleeping sickness presents two clinically and geographically distinguishable forms, the causative agents of which are Trypanosoma brucei rhodesiense and Trypanosoma brucei gambiense. Both forms are transmitted by the tsetse fly (Glossina spp)2. In the late or meningoencephalitic stage, parasites penetrate the blood-brain barrier and persist and proliferate in the central nervous system, causing an encephalitic reaction that leads to death if left untreated or improperly treated 3. In our laboratory we use Trypanosoma brucei brucei, responsible for the disease in cattle, as a model of pathogenic protozoa for biochemical, molecular and cellular biology studies. The relative small size of its genome, its rapid life cycle and the availability of reverse genetics tools make this organism the ideal model for the study of biological processes of trypanosomatids.
The integrity of DNA and the genetic information it contains is essential for life. However, genetic material is subject to damage of different sources, including those caused by exogenous genotoxins or by products of endogenous metabolism itself 4. These damages, if not repaired, will interfere with essential processes such as replication, transcription and the organization of genetic material, leading to mutations, cell death and diseases in multicellular organisms. Therefore, it is crucial for all cellular organisms to have DNA damage response mechanisms that remove the lesions and reconstitute the original genetic information (Fig.1). In trypanosomatids, these mechanisms are especially relevant considering their unavoidable exposure to agents that damage DNA in the mammalian host 5.
The response pathways to DNA damage have been thoroughly characterized in bacterial, yeast, and mammalian models. In contrast, the description of these processes in trypanosomatids began more recently and therefore our knowledge is much more limited. However, given the high conservation of DNA repair pathways and the factors that compose them among eukaryotes, genes and proteins identified in model species have served to identify homologous sequences in trypanosomes. This has made possible to demonstrate that various DNA repair routes operate in trypanosomatids 6. However, only a minority of the activities identified by electronic annotation has been functionally validated up to date and it is likely that some trypanosomatid-specific response factors, not previously described in other model organisms, still remain unnoticed.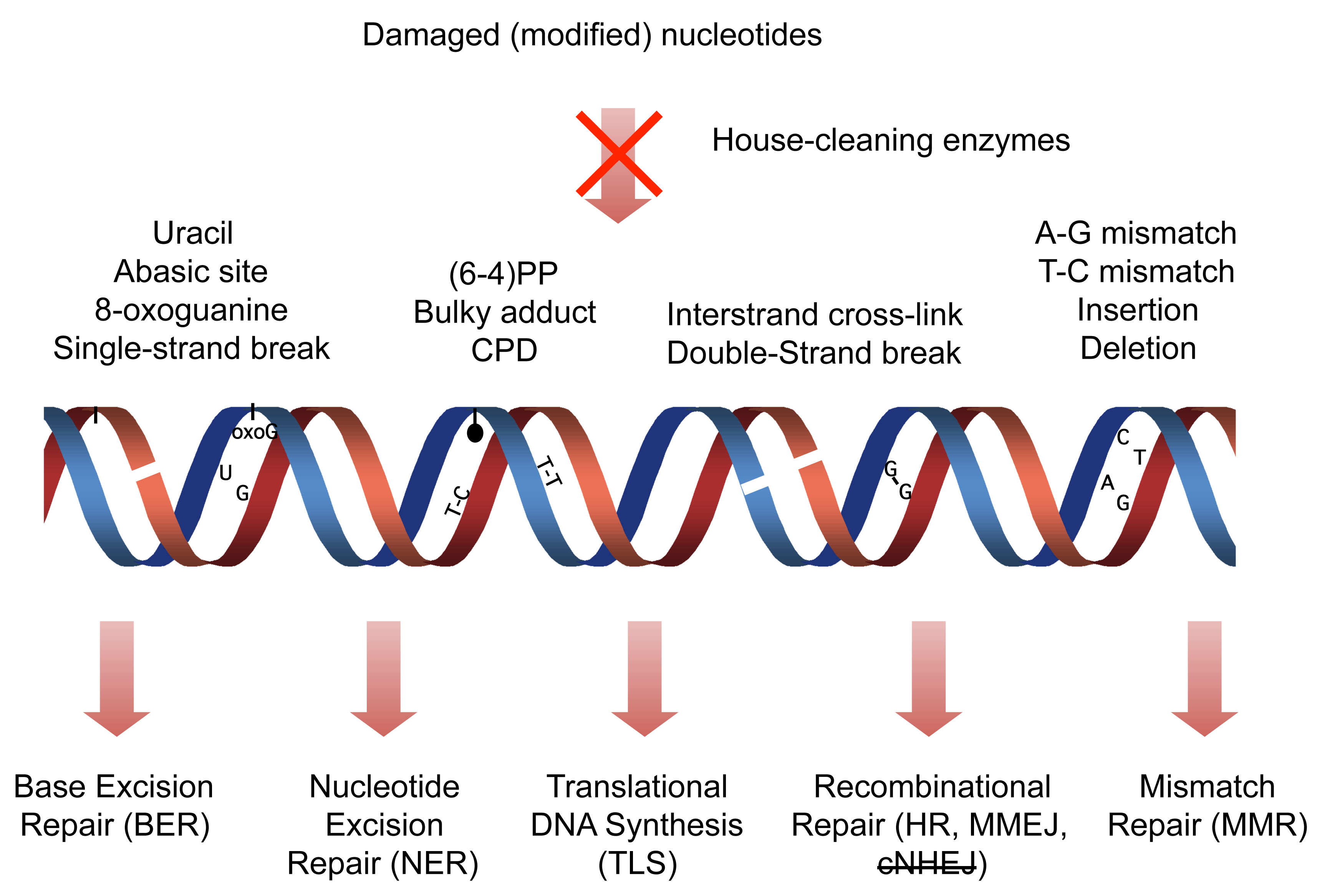 Figure 1. Main biochemical pathways involved in DNA damage avoidance are conserved in T. brucei
Our goal is to define the proteins involved in the repair of DNA damage and validate the selective inhibition of these pathways as a new antiparasitic strategy. This therapeutic approach is based on the idea that inhibition of damage detection or repair pathways will make cells more susceptible to genotoxic agents that cause the type of damage that is recognized by that pathway. The identification and functional characterization of components of the response to DNA damage will allow us to understand what type of lesions are generated in the genome of these organisms and how they are repaired, information which is vital prior to design chemotherapeutic strategies with which compromise the viability of these pathogenic agents.

References

1 Nussbaum, K., Honek, J., Cadmus, C. M. & Efferth, T. Trypanosomatid parasites causing neglected diseases. Curr. Med. Chem. 17, 1594-1617 (2010).

2 Lundkvist, G. B., Kristensson, K. & Bentivoglio, M. Why trypanosomes cause sleeping sickness. Physiology (Bethesda) 19, 198-206 (2004).

3 Kennedy, P. G. Human African trypanosomiasis of the CNS: current issues and challenges. J. Clin. Invest. 113, 496-504 (2004).

4 Friedberg, E. C., Walker G.C., Siede W., Wood R. D., Schultz R. A. and T. Ellenberger. DNA Repair and Mutagenesis. 2nd edn, (ASM Press, 2006).

5 Steenkamp, D. J. Trypanosomal antioxidants and emerging aspects of redox regulation in the trypanosomatids. Antioxid. Redox Signal. 4, 105-121 (2002).

6 Passos-Silva, D. G. et al. Overview of DNA Repair in Trypanosoma cruzi, Trypanosoma brucei, and Leishmania major. J Nucleic Acids 2010, 840768 (2010).


FUNDING AGENCIES LAST 5 YEARS